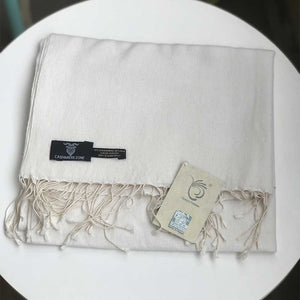 Pashmina Scarf White
Regular price $101.00 $131.00 Sale
or make 4 interest-free payments of $32.75 fortnightly with
More info
Mixture: 70% cashmere 30% silk
Fringe: 3″ tassel
Comes with Chyangra pashmina hallmark certificate
Can be used as a scarf or a shawl.
Thickness: single ply
Colour : White . Click here if you want other colours.
100 days free return.
This pashmina scarf white is one of the most popular pashmina scarves in Cashmere Zone collection. It is made with 70% top-quality pashmina wool and 30% luxurious silk. The touch of silk gives the pashmina a smooth and wonderful feeling and also makes the scarf more stronger.
This amazing handmade  pashmina scarf in white  is a perfect for all our Australian seasons. This can be worn to give you cooler feeling on summer evenings yet can be amazingly be warm in winter, autumn or summer. Whether you are going for a formal dinner, going to the theatre or just going for a casual stroll along the beach and need to keep yourself nice and warm, this is a perfect choice for you.
Pashmina scarf white is also one of the safest colours for gifts. White scarves generally go well with any fashion attire.
This fantastic pashmina scarf white comes with with 3" tassels on both ends. It is traditionally crafted by hand to give you a fabulous fashionable accessory that can be worn all year round. Pashmina is the traditional name for the very finest grade of cashmere wool that is extracted from the Himalayan goats. The are also known as "Changrya".
Here are few links which can help understand more about pashmina and how to take care of them.
Due to its unique softness and comforting warmth, pashmina is also known as the "diamond fabric" and the "soft gold of high Asia." It is simply the finest, softest and warmest wool available anywhere.
This classic black pashmina scarf is hand woven.
Perfect for casual wear on a cool summer evenings or winter.
Mixture of 70% pure pashmina (cashmere), 30% high quality silk.
Colour: white